Our Technicians
Jen Ludorf, AHT
Jen joined us as a technician student in February 2014. After graduating from NAIT's Animal Health Technology program with honours in the spring of 2015, she completed her practicum at West Wind Veterinary Hospital and has stayed as a full time technician. She has embraced all aspects of being a technician and greatly enjoys working on all animals; particularly horses, dogs, and cats. Jen enjoys spending time with her husband, John, and children, Allison and Dale. She makes a point to share her love and knowledge of animals with her children, nieces, and nephews. As a pet owner herself of a dog, two horses, and five cats she knows the importance animals can be in everyday life. Jen feels fortunate to have a career that encompasses her passion for animals and medicine daily.
Heather Stolz, RVT
Heather graduated from the Lakeland College Animal Health Technology program in 2004. She has been involved with West Wind Veterinary Hospital for over 15 years now. She enjoys the diversity of what services the clinic offers for your pets. Outside of work, Heather has a very busy life with her 2 children, Rhea and Samuel.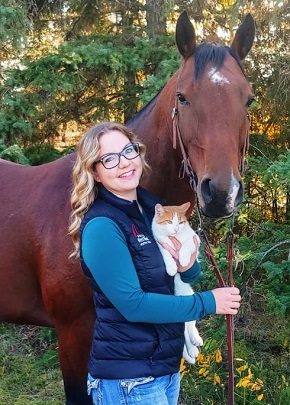 Ciara Fankhanel, RVT
Ciara grew up in the New Norway area helping with her parents' Charolais/Angus cattle operation. She spent 12 years in the 4H program. That and her love of all animals prompted a career in the veterinary industry. Ciara graduated from Lakeland College's Animal Health Technology program, with distinction, in June 2018. She joined the team in November 2020, with two and a half years previous experience in the equine veterinary industry. Ciara is excited to have found a career in which she can combine her knowledge and love of animals every day. She enjoys all aspects of her career, with a special interest in equine medicine and small animal anesthesia. Ciara spends most of her days off on her family farm - she really enjoys calving season, riding horses and helping with day to day herd health (for both horses and cattle!) She also loves spending time with her energetic Golden Retriever, Charlie, both at home and in the mountains.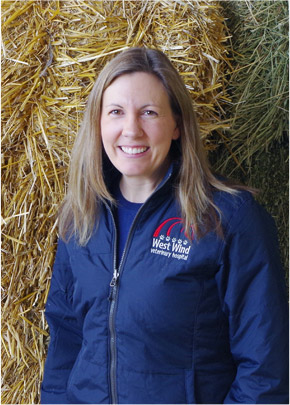 Katy Tutt RVT, BA, MAC
A native of the United States by way of Florida and Las Vegas (to name a couple), Katy began life in Canada as a restorer of paintings. She quickly found her calling in the animal world, graduating from tech school in 2009 where she earned the Benson Medical Award for Proficiency in Surgery and Anaesthesia. In her free time, she enjoys her two daughters and her husband.