Our Technicians
Chelsea Eales, AHT
Chelsea graduated from the NAIT Animal Health Technology program in 2011. Having always known equine medicine was her passion, she completed her practicum at West Wind Veterinary Hospital, and was hired on after as a full time technician. Recently, Chelsea became certified in equine massage therapy. Chelsea enjoys the equine emergency and critical care aspect of her job, as well as equine anesthesia. In her free time, she can be found with her QH mare 'Poko', running, boating and snowboarding.
Jen Ludorf, AHT
Jen joined us as a technician student in February 2014. After graduating from NAIT's Animal Health Technology program with honours in the spring of 2015, she completed her practicum at West Wind Veterinary Hospital and has stayed as a full time technician. She has embraced all aspects of being a technician and greatly enjoys working on all animals; particularly horses, dogs, and cats. Jen enjoys spending time with her husband, John, and children, Allison and Dale. She makes a point to share her love and knowledge of animals with her children, nieces, and nephews. As a pet owner herself of a dog, two horses, and five cats she knows the importance animals can be in everyday life. Jen feels fortunate to have a career that encompasses her passion for animals and medicine daily.
Heather Stolz, AHT
Heather graduated from Lakeland College as an AHT in 2004. She has been with West Wind Veterinary Hospital for over 10 years. Heather is currently on maternity leave. Heather enjoys interacting with clients and hearing how their horses, dogs and/or cats are doing. Outside of work, Heather can be found spending time with her family.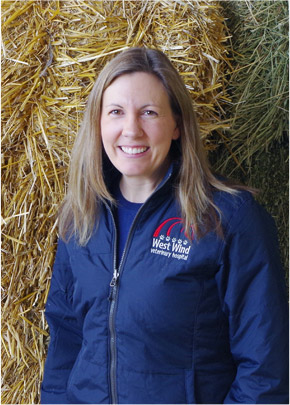 Katy Tutt RVT, BA, MAC
A native of the United States by way of Florida and Las Vegas (to name a couple), Katy began life in Canada as a restorer of paintings. She quickly found her calling in the animal world, graduating from tech school in 2009 where she earned the Benson Medical Award for Proficiency in Surgery and Anaesthesia. In her free time, she enjoys her two daughters and her husband.